Late last month I received an email from SocialGo expressing their interest in showcasing www.bbcmarilao.org as their featured network for their blogsite. I was flattered of course and excited, considering that our network is not yet finished in terms of design customization. I believe they saw the potential of the idea of using social network model for Church websites.
For most members, the only time they see their Pastor and church friends is during services on Sundays or mid-week services. The social network model for Church website gives the opportunity for members of the congregation to interact and fellowship even if they're away from their Church during weekdays.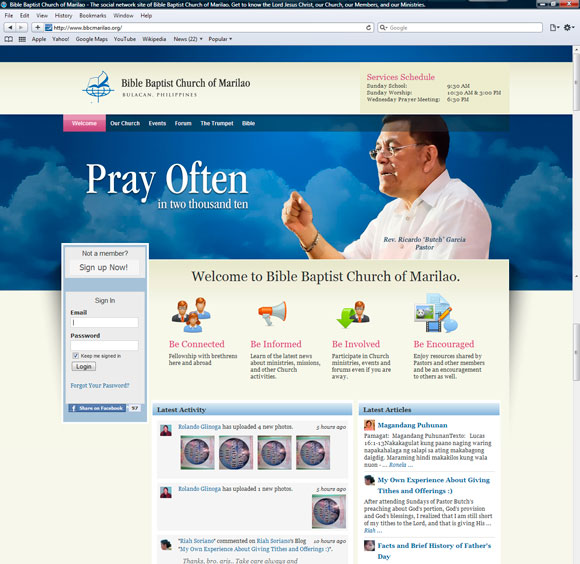 The first social network site that I've created was actually a site for our High School batch Silver Jubilee. I'm using the Ning platform, and I would say that Ning is one very efficient platform with seamless Facebook and Twitter connectivity.  My experience with that site led me to realize the advantage of social network model for religious organization such as ours. I scouted for other providers (knowing that Ning will no longer offer their free package in the future), and I found SocialGo. It's main advantage over Ning is in the area of site customization, and that really attracted me.
Basically, we can consider that a religious website has two audiences. The Church members and (potential) visitors. Most Church websites are focused on the later, which is actually good. There are Church websites however, who knew the needs of their members and in some way addressed it by providing resources for members (downloadable lessons, messages, audio sermons, etc.)  But I believe a way of maximizing the site is to use it as a collaboration tool for the members as well (and that's putting "God's money" to good use).
Veering away from the typical "about us" website, a social network model for a Church website can actually become a collaboration tool for the members. They can share resources such as lessons, documents, music piece or song sheets Bible study lessons, etc. They can promote Church events by creating one in the network and coordinate its details within the network. They can form groups for each ministry or Church group and within that group they can have their own forum and events as well (sort of having a sub-network). Forum discussion is an important aspect of this model. With it, Pastors and other Church leaders can open discussions with the members, as well as answer questions from them, and members can share opinions with other members as well.
On my next post I will share how we (planned to) use the social network model for our own Church website. Meanwhile I would like to share some links that I have found in the course of my search.
SocialGo – The one I used for my Church's website. You can use it by signing up for Free!
Cobblestone Community Network -A community networking platform designed specifically for Church use.
SocialEngine – A commercial  PHP social networking script
Ning – A popular social network platform
Spruz – A free Social Network platform similar to Ning.